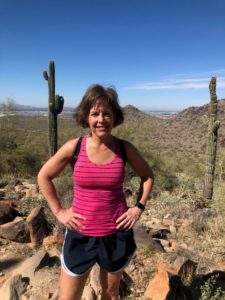 Growing up, Blue Cross and Blue Shield of Nebraska (BCBSNE) Executive Assistant Jean Wurtz and her family belonged to the local YMCA. She spent a lot of her childhood there—from softball to swimming, being active has always been a part of Wurtz's life.
"Any kind of fitness or physical activity is a stress reliever," said Wurtz. "It takes time out of my day and forces me to spend time on myself. Those endorphins boost my attitude and prepare me for anything that comes my way throughout the day."
Wurtz believes living a well-rounded lifestyle is a positive cycle—almost a habit. When she's working out regularly, she finds she is also eating healthier and sleeping better.
"If I get off that cycle, I find my eating and sleep pattern is disrupted," said Wurtz. "Keeping with regular exercise and activity maintains an overall wellness in my daily routine."
How does she stay in this cycle?
Wurtz has incorporated several tips and tricks into her routine that help her keep up. For instance, as a rule of thumb, she always lays her workout clothes out the night before. This simple hack is a reminder of the commitment she has to her health and wellness journey.
"It's a reminder that I need to do something—whether that be mowing the lawn or taking a jog," said Wurtz.
While most BCBSNE employees are continuing to work remotely, when Wurtz stops by the office, she packs a workout bag. This is a way to hold herself accountable by using the BCBSNE workout facility during her lunch break or after work.
"The convenience of having 24/7 access to the fitness facility in the building is a motivator," said Wurtz. "I'm very grateful to BCBSNE that they take our health seriously and keep that fitness center available to us."
Despite her appreciation for daily movement and activity, some days, Wurtz acknowledges the need to give her body a break.
"It's a healthy balance," said Wurtz.
This balance is built around listening to her body.
"If I pack a bag and I'm not feeling a workout, I acknowledge the feeling," said Wurtz. "I know it's okay to give myself a break. I'll take a mental day and try again tomorrow."
When Wurtz isn't working out on her own, she enjoys participating in BCBSNE's wellness challenges.
"I love the fitness challenges," said Wurtz. "It's a great way to collaborate and work towards a goal with my co-workers on a team. I'm mostly competitive with myself. I like to get my heartrate up and push myself to do better than my previous workout. It's fun to do it with other people."
To read more stories like this one, visit Health and Wellness.
*Wise & Well is a monthly wellness series highlighting BCBSNE employees and their dedication to health and wellness.