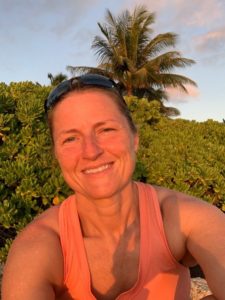 "I do my best to be active at least once a day. I get up early to squeeze in a walk with my dog, a quick run around the neighborhood or strength training before starting work," said Julie Klein, strategic account executive at Blue Cross Blue Shield of Nebraska (BCBSNE).
What started as a lifestyle change to help manage stress transcended into a hobby.
Growing up, Klein participated in a variety of sports year around. When Klein began to work towards a healthier lifestyle in 2011, she channeled her energy into her childhood passion: running. Participating in a handful of half and full marathons, running became the perfect outlet to alleviate the stress and tension of the workday.
Stress management wasn't the only motivator behind Klein's health and wellness journey.
"I always look at my family and what they have gone through regarding medical history," Klein said. "I do the best to take care of myself so that I don't have to worry about the things that they went through. My goal is to keep my body as healthy as possible, so I don't develop the chronic conditions that have been passed down our family."
When Klein isn't running, she takes advantage of BCBSNE's wellness program offerings, like Wellbeats. This health and well-being app is offered to BCBSNE employees to help them focus on their wellness. The app includes on-demand workout videos, nutrition education, stretching and recovery tips and more.
"Wellbeats is a great resource for employees to begin their health and wellness journey or even just learn more about taking care of their body and eating healthier," said Klein. "I use it two-to-three times a week. It's a great supplement to a personal trainer. The platform provides employees with an at-home coach that helps guide you through the workout."
Klein recently participated in Nebraska's Market to Market Race. The largest day-long relay in the nation, this race takes place over the course of 75ish miles. Teams take on running stages, each stage varying in distance from 3 to 5 miles. At this race, Klein served as a team captain. She hopes to complete a half marathon this spring.
To read more stories like this one, visit Health and Wellness.
*Wise & Well is a monthly wellness series highlighting BCBSNE employees and their dedication to health and wellness.