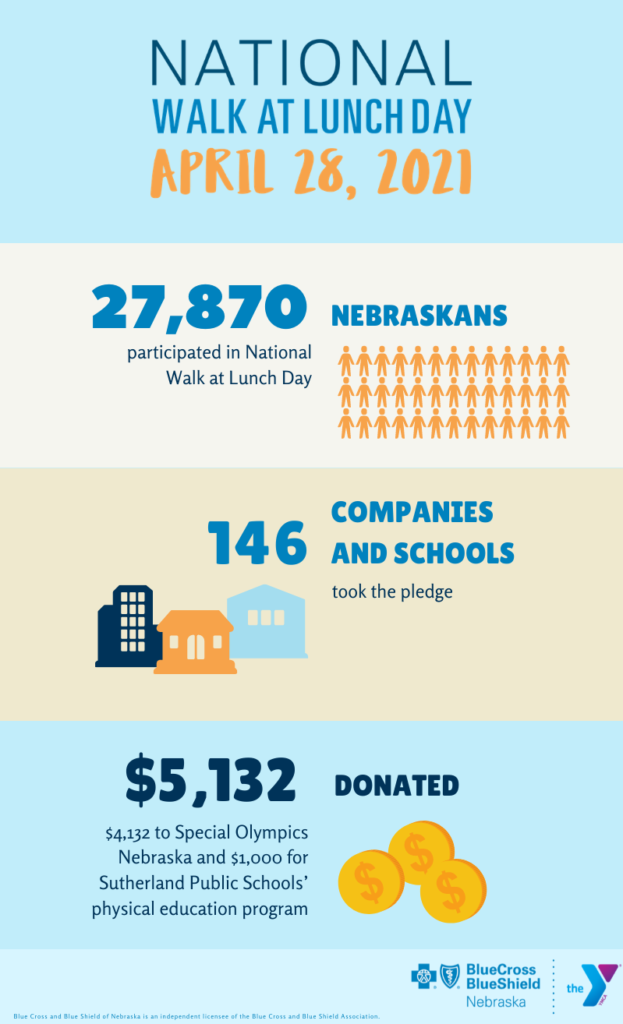 More than 1,000 individuals and 146 companies and schools took the online NW@L pledge to participate, helping to raise $4,132 for Special Olympics Nebraska to support the nonprofit's 19 year-round sports, free health screenings and school programs across the state.
Participating in NW@L Day has been over a decade-long tradition for Blue Cross and Blue Shield of Nebraska (BCBSNE) employees.
"I remember when we were in the office and everyone would throw on their walking shoes and head out to the trail to enjoy the outdoors while making a healthy choice," said Michelle Stenslokken, director of clinical support and system admin at BCBSNE. "These days, while working from home, I have changed my walking partner from a coworker to my pup, Peanut."
Organizations, such as Kimball Public Schools, Famers Mutual of Nebraska, University of Nebraska Medical Center's Munroe-Meyer Institute and more were spotted on social media striding toward better health.
One lucky school that participated won a $1,000 physical education grant from BCBSNE for taking the pledge. Congratulations to Sutherland Public Schools!
This year, BCBSNE also joined forces with YMCAs across the state to bring NW@L Day to more communities. Y locations in Omaha, Lincoln and across Nebraska hosted a community day, making it free for all Nebraskans to visit their facilities and partake in NW@L Day, rain or shine.
"This event was a fantastic way to help our members stay active and get our communities together for a great cause," said Chris Tointon, president and CEO of YMCA of Greater Omaha.
To read more stories like this one, visit Health and Wellness.