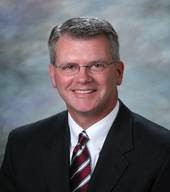 Blue Cross and Blue Shield of Nebraska (BCBSNE) is proud to sponsor Combined Health Agencies Drive (CHAD), a local organization that has been raising funds with and for Nebraska's premier health charities, including Brain Injury Alliance of Nebraska (BIA-NE), since 1972.
When people ask Brett Young what it's like to return to normal, he enjoys joking he was never normal in the first place.
"But I'm back on track to being my old self again," he said.
Young, a strategic account executive at BCBSNE, is a traumatic brain injury (TBI) survivor who suffered a fall while adjusting a basketball hoop in his driveway. Coming to in the hospital, he and his family faced an uphill battle for recovery that included handling seizures, one of which later occurred while Young was driving.
"My wife was rock-solid all the way through," Young said. "I'm blessed to have her love and support."
He is not alone in dealing with the aftereffects of TBI. In fact, an average of 13,634 Nebraskans are seen in the emergency room each year with a brain injury, according to the 2018 Nebraska Traumatic Brain Injury Registry Annual Report.
TBI symptoms can have an immediate and sometimes lasting impact on survivors' cognitive, physical and emotional well-being, Peggy Reisher, BIA-NE executive director, said.
"Individuals with brain injury may appear to be disorganized, aggressive, temperamental or confused and have physical symptoms, such as headaches, changes in vision, hearing loss or difficulty with balance," she said. "When these symptoms are misunderstood, the individual frequently does not get the help they need."
BIA-NE, bolstered in part by CHAD, is a nonprofit committed to creating a brighter future for brain injury survivors through prevention, education, advocacy and support.
The nonprofit began providing TBI survivors with brain injury referral and care coordination in July 2016. Since then, BIA-NE has assisted more than 700 clients.
"Thirty-one percent of our clients were seven or more years post-injury," Reisher said. "This indicates those with brain injury have chronic needs, beyond what is being provided for at the acute-care level."
BIA-NE helps to fill the gap in care brain injury survivors face by offering 18 support groups around the state, news updates and resource facilitation, such as support for clients and their families and training for community members working with TBI survivors.
Young has felt the lasting effects a TBI can have. After, meeting Reisher by chance at an event, he joined the BIA-NE board, where he's served for the last year, helping to connect others with the support the nonprofit provides.
"My motivation is to help others that have survived a brain injury," Young said. "It hasn't been too long ago that I can't remember the struggle and the amount of support and sacrifice that my wife provided. It impacts every part of your life, so it's important to me to help others know that there is help and support available."
For more articles like this one, visit Community Engagement.