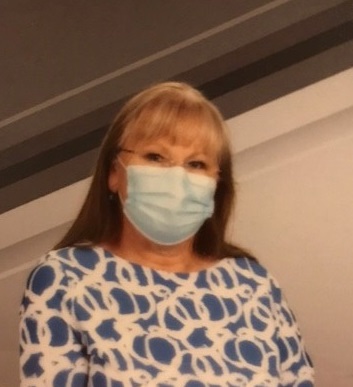 Forty-five years ago, Barbara Saathoff wasn't sure she would be able to walk again or see her children grow up – much less get her degree in education. Now, she's celebrating 29 years as a high school science teacher.
Saathoff's story took a dark turn in 1975. She was in her early 20s – a newly single mother of two children under age 4, in good health – when she suddenly lost feeling in her feet, hands and, soon, entire body.
Unable to speak or even close her eyes, she was hospitalized for weeks in Springfield, Illinois, before finally being diagnosed with Guillain-Barré Syndrome, a rare autoimmune disorder where one's immune system attacks the peripheral nervous system.
Saathoff was mentally present, but fully paralyzed for five months. Weighing only 72 pounds (up from 48 at her lowest point), she went home in a wheelchair at the mercy of her parents, who were also now raising her son and daughter. They had to carry her most places because accommodations for handicapped people were so limited.
"They said I'd never walk again and weren't sure I'd survive," Saathoff said. "I told God I wouldn't want to live like this. I wanted to see my children grow up. I wanted to be a teacher."
Saathoff slogged through physical, vocational, occupational and speech therapies with her parents' support and walked into a follow-up appointment a year later.
"'I want to see you do that again,' the doctor said. From then on, I never stopped pushing," she said.
As soon as she could, Saathoff started college. Upon graduation from the University of Nebraska at Lincoln in 1991, she bought herself a blue topaz and diamond ring – a symbol of the birthdays she hadn't expected to see and the strength she had to survive and pursue education.
She went on to earn two master's degrees in curriculum and Pre-K-12 administration; has taught high school science for nearly 30 years in Dorchester, Lincoln, Columbus and now Schuyler; and still wears that blue topaz ring today.
"It's not a job when you love what you do," said Saathoff, a proud recipient of the Cooper Award for Excellence in Teaching and Alltel Outstanding Teacher Award.
She got to see her two children – and now six grandchildren who all live in Nebraska – grow up. She was also able to return years of favors by taking care of her dear mom and dad before they passed away.
Saathoff's health journey hasn't been without its continued challenges. Residual pain and nerve damage are a constant struggle. She's had 10 surgeries – on her hands, feet and appendix, to name a few. Because of her history with GBS, Saathoff is unable to safely receive a COVID-19 vaccine and has spent the last year in particular fear of the virus. Fortunately, Blue Cross and Blue Shield of Nebraska (BCBSNE) has been there for her for more than 40 years.
"People need to know that if you have [BCBSNE], you don't need to worry about what [illness] you have because they're beside you," Saathoff said.
Saathoff's story is just one of many. See more stories like this – and share yours – at NebraskaBlue.com/YourStory.