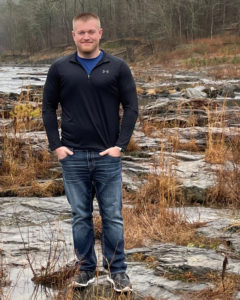 Zach Heerten's wellness journey began with a simple wellness challenge at Blue Cross and Blue Shield of Nebraska (BCBSNE) in 2018 and has only blossomed from there.
Hosted as part of  BCBSNE's internal wellness program, the 10K-A-Day wellness challenge encouraged employees to hit 10,000 steps a day for six weeks.
"Multiple members of my team participated in the challenge, and I decided it was as good of time as any to make some changes in my well-being," said Heerten, senior systems engineer at BCBSNE. "The competitive nature of the challenge led me to want to continue once it was over."
After the challenge, he continued walking and eventually moved to other forms of exercise, such as high-intensity interval and strength training.
"When the pandemic hit, and everyone started working from home, it became necessary to find new ways to clear my mind and stay busy when so many things were shut down," said Heerten. "Going for a run over the lunch hour became a good way to break up the day and refocus for the afternoon ahead. In the evenings, hitting the gym for a strength training session provided something to do outside of the house and a way to decompress."
Throughout the three years of his journey, he has kept one guiding light in focus to keep him motivated.
"I've lost about 60 or 70 pounds since I started in 2018, and I find it important to keep moving forward and to not undo the hard work it has taken to get to this point," he said. "Having additional energy, along with striving to hit new personal records and goals, keeps me moving forward as well."
While keeping his physical health in check is important, he recognizes that mental health is just as crucial to staying well.
"The past year and a half have brought plenty of changes and, at times, uncertainty," said Heerten. "I have chosen to tune out negativity and avoid getting worked up about things that are outside of my control. Focusing on the positive things around you is far more rewarding and less stressful."
During his journey, he enjoyed motivating and encouraging those around him by sharing what he's learned along the way.
"Start with small changes and gradually work your way up," he said. "Behaviors you're trying to change were not formed overnight and probably won't change overnight either. You're more likely to be successful with small, incremental changes than to try and make drastic changes upfront. Above all, staying consistent with your goals is key."
Heerten also encourages others to track their progress to stay motivated because "whether it's miles ran, weight lifted, calories burned, inches lost or a combination of everything, tracking your progress will help keep you going forward as you begin to see results."
To read more stories like this one, visit Health and Wellness.
*Wise & Well is a monthly wellness series highlighting BCBSNE employees and their dedication to health and wellness.