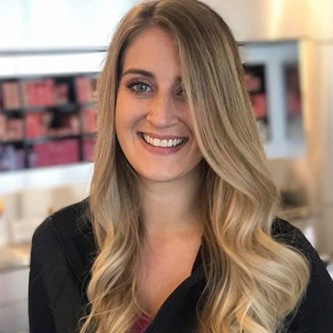 What started as a degree path transcended into a newfound confidence for Blue Cross and Blue Shield of Nebraska (BCBSNE) account specialist Abbie Liss and her career.
Liss is a recipient of tuition reimbursement benefits offered by BCBSNE. The company partners with a variety of universities to provide eligible employees with opportunities for assistance in going back to school.
Graduating in July of 2020, Liss participated in Bellevue University's Accelerated Online Program. There, she earned her Bachelor of Science in project management and a spot on the Dean's list.
"I have nothing but great things to say about Bellevue University and the tuition reimbursement program," Liss said. "This year, the benefits are the best they've ever been. BCBSNE handles everything from the paperwork to the enrollment. They make the cumbersome process easy for each employee."
The degree course load strengthened Liss' critical thinking and communication skills –- ultimately leveraging her ability to perceive and solve challenges inside and outside of her role at BCBSNE. She began to trust in herself and in return, grew her confidence. Liss channeled this newfound self-confidence into becoming a better advocate for herself and her clients.
This growth was evident to her spheres of influence. Coworkers, family and friends watched her remarkable transformation – growing as a person and a professional.
BCBSNE Manager of Account Services Lisa Mabry witnessed Liss' transformation firsthand.
"Her critical reasoning, anticipating next steps and overall project management techniques have truly improved, and as a result, her customers enjoy working with her even more," Marby said. "I would tell her during our one-on-one meetings that I could tell she was taking to heart all that she was learning because I could hear it in how she answered questions and could see a difference in how she looked at situations."
Nonetheless, this academic success and personal growth was no easy feat. Liss expressed the struggle of pursuing an accelerated degree alongside a full-time job.
"It was difficult to balance school with work—especially during the high-peak renewal season [when customers renew their insurance coverage]," Liss said. "My boss was incredibly supportive and flexible with paid time off during exam season."
Bellevue University also offers a variety of resources to help students balance work, life and family obligations with school, including access to personalized support services and the ability to transfer previous credits to their current degree program.
Liss is one of the 771 employees since the year 2000 who have taken advantage of BCBSNE's tuition reimbursement benefits. Currently, BCBSNE has nine active employees enrolled in the program with Bellevue University. These students are seeking both undergraduate and graduate degrees in programs varying across the fields of management, business, health care and information technology.
For more article like this one, visit Team Blue.