Throughout the summer, Blue Cross and Blue Shield of Nebraska's (BCBSNE) employee resource groups (ERG) celebrated diversity, equity and inclusion by marching in parades, networking with coworkers and supporting the Omaha community.
Check out what BCBSNE's ERGs have been up to:
Omaha Cinco de Mayo Parade and Fiesta Carnival
Starting off the summer, Latinos Empowered to Achieve Their Potential (LEAP), BCBSNE's ERG supporting Latino employees, lead BCBSNE in the 100th annual Omaha Cinco de Mayo Parade on Saturday, May 7. Held along historic 24th Street, the parade and festival included live entertainment, food, games and even a Que Chulo dog contest.
"It makes me proud to represent BCBSNE in a Latino event as big as this one," said Christian Gallardo, IT compliance program manager at BCBSNE and LEAP president. "I believe it helps retain and promote diversity as well as creating a company culture rooted in acceptance and belonging."
The Omaha Freedom Festival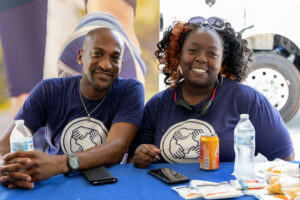 The Omaha Freedom Festival, hosted by Freedomtainment, celebrates Juneteenth, a U.S. holiday that honors the emancipation of those enslaved. Held on Saturday, June 18 this year, the festival brought together various local resources and businesses to aid in the mission of educating, empowering and entertaining.
Building Leaders Like Us for Excellence (BLUE), BCBSNE's ERG supporting Black employees, members showed up with popcorn in hand and smiles on their faces ready to support the Omaha community with their booth in the health zone.
"This was a great opportunity for BCBSNE to show up in the community to support and acknowledge this national holiday," said Annette Hickman, product manager and BLUE member. "Not only does it signal to employees that you stand with them through this movement, but you are acknowledging to the entire community that the experience and the struggles that they have had to endure is one worth acknowledging."
Young Professionals Connect's Summer Celebration
Young Professionals (YP) Connect invited employees to cool down with shaved ice and network with coworkers at its Summer Celebration. While the ERG supports the company's YPs, employees of all ages came to enjoy not only the shaved ice, but snacks and yard games and to catch up with coworkers they may only see through a screen.
"Networking is one of YP Connect's areas of focus, and the Summer Celebration provided employees with an opportunity to connect with one another," said Katie Badger, senior Agile project manager at BCBSNE and YP Connect networking co-chair. "With the new norm of being virtual, it was another opportunity to get employees out and about."
Heartland Pride Parade
Fearlessly You @ Blue, BCBSNE's ERG supporting LGBTQ+ employees, walked in the 2022 Heartland Pride Parade on Saturday, July 16.
Matching in their purple t-shirts and dressed head-to-toe in their own Pride decorations, 25 employees marched and tossed out candy through downtown Omaha.
"By joining in the Pride march, BCBSNE joined its greater Omaha community, which showed up with unprecedented numbers in support for our LGBTQIA+ family; it was a magnificent celebration of diversity and inclusion," said Matthew Pleggenkuhle, compliance program manager at BCBSNE and Fearlessly You @ Blue member.
Learn more about BCBSNE's commitment to DEI at NebraskaBlue.com
For more articles like this, visit Team Blue.