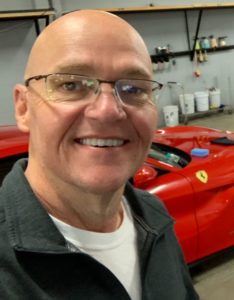 Back in January of 2020, Glenn Bruneau took the first step of an over year-long journey: recognizing that change needed to happen.
"After taking some time to reflect on where I was regarding my personal health both physically and mentally, I concluded I had to make some adjustments to my life," said Bruneau, information services manager at Blue Cross and Blue Shield of Nebraska (BCBSNE). "From there, I began to experiment with different concepts and diets until I found what worked for me, and the science behind it all."
He recognized that he had a few false starts but kept at it and celebrated the one-year anniversary of his journey in February of 2021.
"I stayed motivated by reflecting, creating small measurable goals and journaling," he said. "Interestingly enough, the pandemic allowed me to stay the course with fewer distractions and more time to reflect. It forced me to take time for myself. I also forgave myself for my failures. Recognizing that it's okay to stumble is important."
Through the year, he recognized changes within himself.
"I have definitely had more mental clarity and have better physical well-being," said Bruneau. "I also had to recognize that I am not 25 anymore, but I can be a better version of who I am today."
To help others around him in their journey, he motivates them with his experiences.
"I have learned to share with others that's there is no real magic solution but more of a combination of adjustments," said Bruneau. "I encourage family and friends to explore and educate themselves, experiment, set small goals and journal. Reflect on what's working well and pay attention to those things that make you stumble along the way."
To read more stories like this one, visit Health and Wellness.
*Wise & Well is a monthly wellness series highlighting BCBSNE employees and their dedication to health and wellness.