Sleep is as crucial to a good quality of life as diet and exercise. It can impact your work, waking hours and overall health. A good night's sleep can promote recovery from workouts, growth in children, healing in your body and more.
Not getting enough sleep can not only impact your day-to-day experience, but also your long-term health. Insufficient sleep has been linked to chronic diseasesi, ii, such as:
Heart disease
Obesity
Diabetes
Depression
Drowsy driving
Injuries/Illness
While the amount of sleep you get is important, the quality of sleep is just as essential.iii Some habits that can help improve your sleep are:
Going to bed at the same time each day, even during the weekend
Making sleep a priority
Avoiding alcohol, caffeine, nicotine and larger meals close to bedtime
Getting in your recommended daily activity
Practicing relaxation and mindfulness
The amount of sleep you need also depends on your age and activity level. Here is how much sleep you need based on your age:iv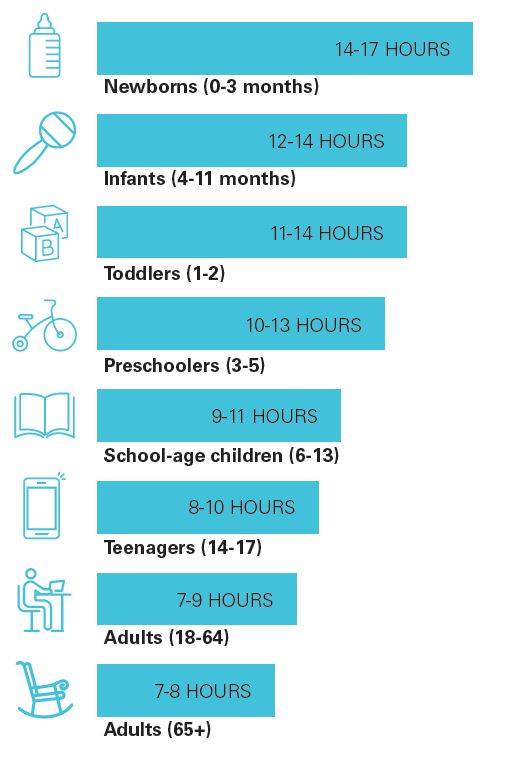 Sleep shapes your life. If you feel your quality of life is limited by poor sleep, contact your doctor.v
To read more stories like this one, visit Health and Wellness.
Sources:
I National Center for Chronic Disease Prevention and Health Promotion: CDC.gov
ii National Heart, Lung and Blood Institute: NHLBI.NIH.gov
iii American Sleep Association: SleepAssociation.org
iv SleepFoundation.org
v Podcast: Rest Easy (2017): https://tools.cdc.gov/medialibrary/index.aspx#/media/id/335023