Odds are you've encountered the bully or know someone who has. Incorrigible and unrelenting, it pummels without prejudice, hovering over its marks with that snarling taunt: "Have you had enough yet?"
Omaha's Karen Crawford has had enough.
"We want to find a cure for this disease. It's a horrible disease," she says. "One in eight women is going to have breast cancer. That's a staggering statistic."
And a very personal one. Crawford's stepdaughter, April Leedom, was diagnosed with breast cancer in 2012 at age 36 and learned more than a year ago that it had spread. She is currently undergoing her third round of chemotherapy.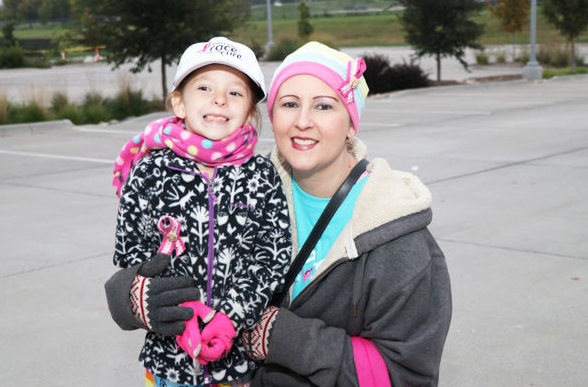 In 2014, Karen and her husband joined a Susan G. Komen Race for the Cure® team organized by one of April's best friends. A year later, Crawford started raising money in earnest. A longtime employee at Celebrity Homes, she credits a generous contractor community with her fundraising success – more than $15,000 over the past three years. In 2017, she took her Komen Nebraska Race for the Cure involvements to the next level by joining the race committee.
"I wanted to find a way to help and feel like I've contributed," she says.
The Susan G. Komen Race for the Cure Series is the world's largest and most successful education and fundraising event for breast cancer.
It is supported locally by a number of key supporters, including stalwart Blue Cross and Blue Shield of Nebraska.
The 2018 event Oct. 7 was a celebratory success — despite some dreary weather.
"Everyone was out there with their rain gear on. They wanted to be there supporting their family, supporting the cure," Crawford says. "That community comes together, and it makes them (cancer patients) feel like they're not facing this fight alone. We're fighting for them. We're raising money. We're trying to help find the cure, get that research going and get those treatments elevated."
Nearly 6,000 people registered and more than $575,000 has been taken in so far. (Fundraising continues through Nov. 15.)
"We are proud of the work done locally to eliminate myths and misinformation, help those in need of screenings and treatment assistance, and advance breast cancer treatment through research," says Karen Daneu, CEO, Susan G. Komen Great Plains. "Karen Crawford is key to all those activities and promoting activities bigger than herself – a world without breast cancer."
As impactful as Crawford has been, she says the real inspiration is April, a mother and two-time Race for the Cure participant.
"April is the strongest person I know," Karen says. "She's never shown any of us that she is a quitter. She doesn't feel sorry for herself. She just wants to live her life."
Whether it's with a cancer-fighting organization like Susan G. Komen or some other outreach, Crawford encourages people to decipher their passion, make that call and get involved, even in a small way. She did – fearless in the face of a relentless foe – and it has impacted countless lives, including her own.
"There was a point in my life where I just couldn't figure out what I was here for. What's my purpose? I think I've found it."