On a sunny autumn afternoon, the Hastings Public Library meeting room is packed with Nebraskans looking for answers about Medicare. With a sense of urgency – as the Medicare open enrollment period winds down— the crowd peppered questions at representatives from Blue Cross and Blue Shield of Nebraska (BCBSNE), including:
How do you switch from a Medicare Supplement plan to a Medicare Advantage plan?
What are the preferred pharmacies in Hastings and Grand Island?
What gets covered if you go to a skilled nursing facility?
BCBSNE representatives Jenny Robinson and Justin Leapley fielded them all. The two have presented Medicare seminars across the state to help Nebraskans better understand Medicare.
"Picking the right Medicare coverage depends on your circumstances and what is most valuable to you," Leapley told the group.
Most in the crowd were already covered by Medicare Supplement plans. Supplement plans do just that—supplement the Part A and Part B (hospital and medical) benefits paid by Original Medicare.
Leapley acknowledged many in the room might be anxious to switch from a Medicare Supplement plan to a Medicare Advantage plan.
"Medicare Advantage plans keep getting better," Leapley said. "There are more value-added benefits and stronger provider networks."
For Steven and Cathryn Adelson, just getting a chance to ask questions and talk to someone was helpful.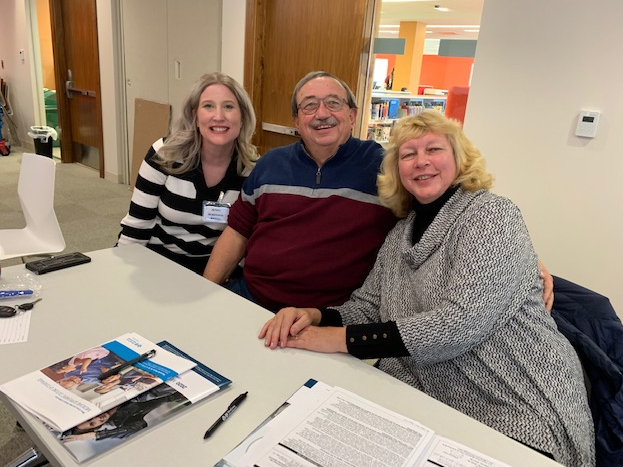 Steven and Cathryn Adelson with BCBSNE's Jenny Robinson
"We've been Blue Cross and Blue Shield of Nebraska members for 20 years," Steven Adelson said. "Our trust level is very high."
Cathryn Adelson is thinking about switching from a Medicare supplement plan while her husband Steven is just about to retire and looking at a Medicare Advantage plan. They know they want to travel between Hastings and their second home in Estes, Colorado. They think the money they would have spent on a Medicare supplement plan could be set aside to pay Medicare Advantage copays.
The couple could join the more than 60,000 Nebraskans already covered by Medicare Advantage plans.
As they stepped out into the late autumn light, the Adelsons said that by attending the BCBSNE seminar, they had less uncertainty and more information to consider as they take their next steps into retirement.