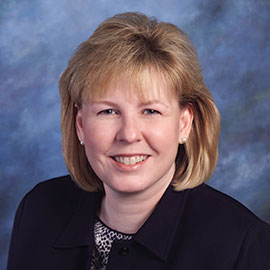 The Blue Cross and Blue Shield of Nebraska (BCBSNE) board of directors has elected Karen B. Aman of Blair as board chair. Previous board chair George G. Beattie of Lincoln will continue to serve on the board as vice chair.
Aman is vice president of Mid America Computer Corporation (MACC) and owns EnSite, Incorporated. She has served on the Blue Cross and Blue Shield of Nebraska board since 2009, as well as a previous term on the board from 1996 to 2005.
"I am honored to serve as board chair and have great trust in BCBSNE leadership to guide us through challenges and opportunities alike," said Aman. "Together, we will weather the current storm alongside our fellow Nebraskans."
"The health insurance industry is faced not only with increasing competition and disruption, but the current coronavirus pandemic has all of us facing uncharted territory in the months and years to come," said Steve Grandfield, BCBSNE president and CEO. "However, I am confident that our board will provide the leadership and support necessary for us to continue to serve our members for many years to come."
In other action, the following board members were re-elected to three-year terms during BCBSNE's annual meeting of members on March 30:
Anthony F. Raimondo, Jr., vice chair of the board and co-president of International and Diversified Products, Behlen Mfg. Co., Omaha
John B. Jenkins, partner at Dundee Venture Capital, Omaha
Jeffrey L. Schumacher, president of Capitol Casualty Company, Lincoln
Keith Olsen of Grant retired from the board after 17 years of service.
Other members of BCBSNE's board of directors continuing to serve are Leslie R. Andersen, Bennington; Dan E. Ernst, Lincoln; Anthony L. Goins, Lincoln; Steven H. Grandfield, Omaha; Dr. John C. Mitchell, II, Omaha; Robert E. Synowicki, Jr., Omaha.
Learn More:
For more information, visit NebraskaBlue.com.