In the months of May, June and July, Blue Cross and Blue Shield of Nebraska's (BCBSNE) employee resource groups (ERG) were busy all around the community.
LEAP participates in Cinco de Mayo Omaha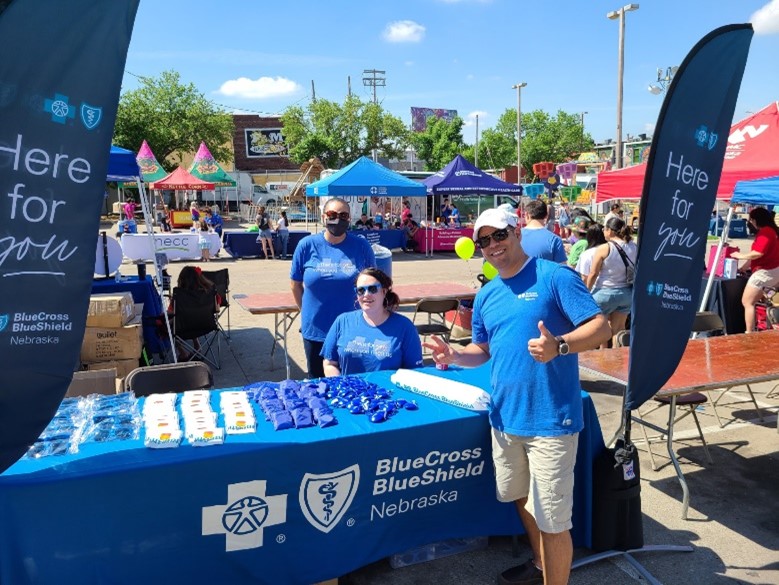 At the start of summer on May 6, Latinos Empowered to Achieve their Potential (LEAP) participated in Cinco de Mayo Omaha. The annual event is a highlight for LEAP, and employees walked in the parade and hosted a booth at the health fair this year.
LEAP, led by IT Compliance Program Manager Christian Gallardo, had almost 20 employees volunteer at the fair.
"I believe it is important to celebrate Cinco de Mayo to honor Mexican and Latino culture within BCBSNE, as well as getting involved with our community and sharing experiences," said Gallardo.
BLUE honors Juneteenth at Omaha Freedom Festival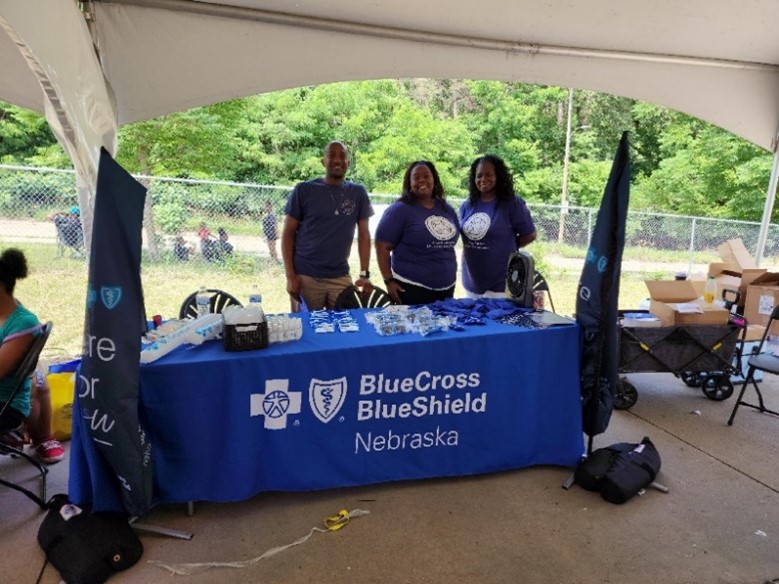 BCBSNE's Building Leaders like Us of Excellence (BLUE), led by Agile Project Manager Catrina Dunbar, participated in the Omaha Freedom Festival on June 17.
To prepare for the annual event, BLUE shared the origin and importance of Juneteenth with employees to honor the holiday.
At BCBSNE, BLUE members serve as advocates for Black employees by promoting education, cultural awareness and inclusion.
"We were taught a portion of the history with the Emancipation Proclamation and not made aware that slavery truly was not eliminated in all states until two years later, which we now know as the true Independence or Freedom Day," said Dunbar.
Honoring the end of slavery on Juneteenth at the Omaha Freedom Festival, BLUE had a booth to celebrate with the community.
Fearlessly You @ Blue marches in the Heartland Pride Parade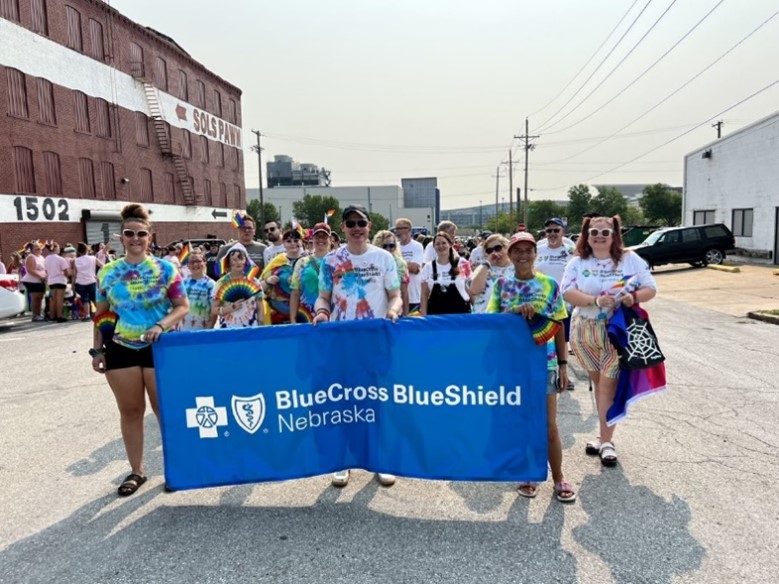 In the month of July, BCBSNE's Fearlessly You @ Blue (FY@B) ERG joined the community in celebrating Pride month. FY@B, headed by Senior Training and Documentation Specialist Miranda Mayer, celebrated Pride by sharing the history of Pride, hosting a t-shirt tie-dying event for employees and marching in the Heartland Pride Parade on July 15.
"Showing up to Pride and celebrating Pride month shows that we are here, and we will continue to be here," Mayer said.
FY@B supports the LGBTQ+ community within and outside of BCBSNE through advocating visibility, respect and for the health of all Nebraskans, regardless of gender identity or sexual orientation.
"This year's parade was the biggest parade in Omaha's history, which is incredible," said Mayer. "Starting at the top of Capitol Street with coworkers and our family and friends and looking down the block to see the crowds and crowds of people was so incredibly moving to me. I was choked up as we were walking, getting to share our joy with others, in celebration of who we are, was just incredible."
For more articles like this, visit Team Blue.