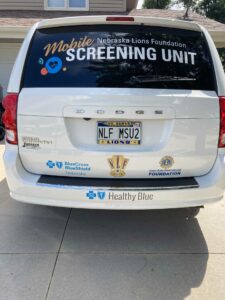 The Nebraska Lions Foundation (NLF) has begun its 2023-2024 school year screenings through its Mobile Screening Unit (MSU). These screenings are cosponsored by Blue Cross and Blue Shield of Nebraska (BCBSNE), Healthy Blue, Lions Clubs International Foundation and Nebraska Lions through the NLF and include vision and hearing assessments.
Between July 1 and Sept. 30, 2023, the MSU provided screenings at 62 schools, totaling 10,129 children and 33 adults screened. Among the children, 1,109 were found to have abnormal vision and 905 possessed abnormal hearing. The MSU will serve 198 additional schools during the 2023-2024 school year, and NLF is forecasting between 41,000 and 42,000 students will be screened through June 30, 2024.
"In 1983, when the NLF first conceived the idea of an MSU to be used to screen for vision and hearing problems, we had no idea how far we would come in these last 40 years," said NLF MSU Committee Chairman George Witte. "Having been involved with this project since the beginning, it is extremely gratifying to see what we Lions have accomplished. This would not have been possible without the support of hundreds of Lions all across Nebraska donating their time and money to make the MSU so successful."
Beginning April 1, 2024, through July 31, 2024, the MSU will also be available for public or corporate screening opportunities. Public screenings are prioritized by the Lions Clubs who request the project first. There are no public screenings during the school year.
"I want to thank BCBSNE for their generous support since the beginning," said Witte. "Thousands of Nebraskans young and old have benefited from the services of the NLF MSU."
Read more about the NLF MSU project on the NLF website.
For more articles like this one, visit Team Blue.