1939 was the beginning of a long tradition of health care coverage in Nebraska. A group of medical professionals, business leaders and others came together to create an organization that today serves over 700,000 people.
To millions of Americans, Blue Cross and Blue Shield represents peace of mind when it's needed the most. That's because the Blue Cross and Blue Shield brand represents the nation's largest and most experienced health care benefit companies.
The Blue Cross and Blue Shield organization is not one single company, but rather a confederation of independent, community-based Plans. Collectively, Blue Cross and Blue Shield Plans cover more than 98 million people – nearly one-third of all Americans – in all 50 states, the District of Columbia and Puerto Rico. With the power of Blue, we are able to provide broad network access and competitive discounts to our clients.
We are a Nebraska-based company, well-versed in the intricacies of employee health benefits. Our Customer Focus philosophy continues to provide our members with world-class customer service and quality programs.
Mission
To lead the way in supporting patient-focused care.
Vision
A healthcare world without confusion that adds more good years to peoples' lives.
Values
Innovate to differentiate.
Invite change to create opportunity.
Enable customer passion.
Openly embrace our communities.
Be open, honest and respectful to inspire trust.
Collaborate to create excellence.
Steven S. Martin
BCBSNEwriters
2018-01-18T12:52:45+00:00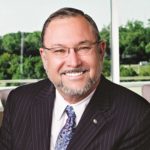 Steven S. Martin is president and chief executive officer of Blue Cross and Blue Shield of Nebraska (BCBSNE) and is a member of the board of directors and the company's executive management team. He also serves as chief executive officer for Genesys Innovations, LLC, a new company owned by BCBSNE focused on information technology innovations for the health insurance industry.
Martin joined BCBSNE in 2002 and currently serves on the board of directors of Blue Cross and Blue Shield Association (BCBSA) in Chicago, serving on the Brand Enhancement and Protection Committee and Data Committee of BCBSA. Martin also serves as a board director for Prime Therapeutics LLC and Travel and Transport, and as Chairman of the Board for BCS Financial Corporation.
Before joining BCBSNE, Martin was the founding president, CEO and a board director for Prime Therapeutics Inc., a comprehensive pharmacy benefits solutions company. Prior to joining Prime Therapeutics, Martin spent 12 years with BCBSNE. His previous positions included vice president of health services research and reimbursement and senior vice president for ProPar Services.
Martin also held management positions at American HomeCare Inc., the Upjohn Company, HealthCheck Inc. and the Menninger Foundation.
Martin is active in community service and currently serves on the following boards:
  • Children's Scholarship Fund
  • Governor, Knights of Aksarben
  • Lauritzen Gardens
  • Nebraskaland Foundation
  • Strategic Command Consultation Committee
  • The Durham Museum
  • The State Chamber of Commerce & Industry (2016 Board Chair)
Martin earned a bachelor's degree from Washburn University and a master's degree from the University of Nebraska. He is a certified professional in the Academy of Health Care Management and a National Association of Corporate Directors (NACD) Board Leadership Fellow.